Susana Banerjee
Young Oncologists Committee member
Address
The Royal Marsden Hospital
London and Surrey
Country

United Kingdom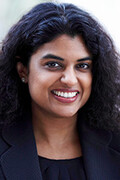 ESMO: Tell us a bit about your career so far
Susana: I am a Consultant Medical Oncologist specialising in the treatment of patients with ovarian cancers and other gynaecological cancers. After I graduated with a 1st class from St. John's College, University of Cambridge, I completed my medical training at Royal Free Medical School where I was a University of London Gold Medal Finalist. I was awarded the Avon Breast Cancer Crusade Clinical Fellowship for laboratory research and gained a PhD from the Institute of Cancer Research, University of London. My specialist training was at The Royal Marsden and was appointed a Consultant here in 2011.
What are your most important achievements?
I've given international oral presentations and was awarded the San Antonio Breast Cancer Symposium Novartis Oncology Basic Science Award for my research in 2007. I've also received the Association of Cancer Physicians McElwain Prize and the Sir Antony Driver Prize, and I was 'highly commended' for the Pfizer British Oncology Association Young Investigator Award.
How is your work organised?
I'm involved in clinical trials and translational research, where my interests are individualisation of patient treatment and targeted therapies in women's cancers. I serve on the Advisory Board for the international journal 'Nature Reviews Clinical Oncology' and have published over 25 articles in peer-reviewed journals and oncology book chapters. I'm the unit lead at the Royal Marsden for clinical trials and the development of new drugs in gynaecological cancers.
Why did you choose to become a medical oncologist?
I was attracted to the challenges of treating patients with cancer as well as the biology of the disease. I continue to be inspired by my patients.
What does your involvement with ESMO and the Young Oncologists Committee (YOC) mean to you?
I enjoy helping to encourage and create opportunities for young oncologists across Europe. I strongly believe that by working together, we can continue to make significant advances in oncology for our patients as well as supporting our speciality.
Do you have some good advice you would like to share with your international colleagues?
Aim to attend an international oncology meeting such as ESMO during training. This can provide good opportunities to meet other oncologists in training and experts which can be very encouraging as well as inspiring.